Community Connection during C-19 
We're a community of coworkers supporting each other in these unprecedented times.
Please join us to hear what your neighbors are up to and how they're getting through this together (but socially distant!).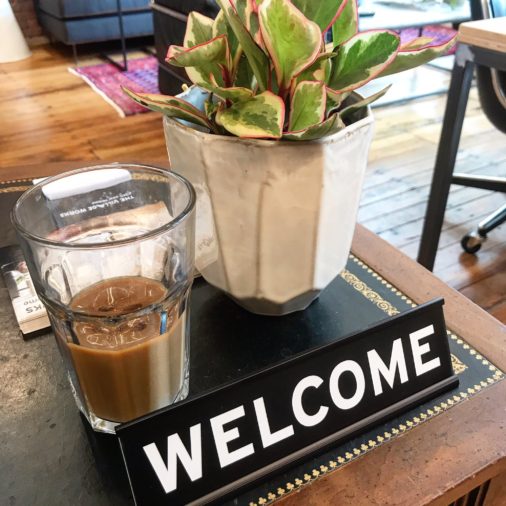 Free Online Events
TVW's online events can also be found on our Google Calendar.
Action Lunch: Better Together
Tuesday, June 2, 12-1PM, Zoom, non-members welcome
Join TVW member Jessica Ullian for an Action Lunch on Tuesday, June 2, at noon, to learn about how you can use this time to collaborate with friends and family around issues you care about. If possible, please come with a topic in mind you'd like to discuss and form a plan around.
"Coffee" with TVW: Stay Connected
Wednesdays, June 3 and 10, 3-4PM, Google Hangouts, non-members welcome
Stay connected to your work neighbors. Enjoy each other's company and crowdsource creative solutions to the challenges we're facing while self-isolating at home. Topics have included recipe-sharing, meditation apps, preferred caffeination sources, and food delivery that supports local businesses. Find us on Google Hangouts for a quick hello and resource-sharing (video optional).
Zoom, Wednesday, June 17, 12-2PM 
POSTPONED: Email hello@thevillageworks.com for updates.
Strategy Roundtable Lunch for Nonprofits: Playing the "Collaboration Card" in a Post-COVID World with Leonard Fuld 
Thursday, April 30, 12-1PM, Google Hangouts, non-members welcome
Is collaboration part of your strategy—or not? Why can it be so important to your long-term success? What are the challenges to making collaboration work? How will this look in a post-COVID world, and how can you adjust to these changes?
Please join us for a virtual Strategy Roundtable for Nonprofits facilitated by competitive strategy and strategic gaming expert Leonard Fuld. After over 30 years of working with some of the world's largest corporations (and writing four books along the way), Leonard formed The Intelligent Nonprofit, which helps nonprofits apply his techniques to pursue their mission.
Past Events
Let's Write Together! with Sara duPont
Monday, May 4, 12PM, Google Hangouts, non-members welcome
Feeling anxious? Adrift? Disconnected from your purpose? Or just losing track of the days? Join us for a writing workshop designed to ground you in your values and strengths and re-align you with your "why". Bring your notebook and favorite pen. You'll be guided through writing exercises that cultivate emotional wellness and strengthen your sense of identity. The goal is to get you thinking about how to stay true to your purpose (or get back to it) within our new normal. 
The material is adapted from a writing class to help students build intentionality (rather than stress) into college essay writing. This workshop is aimed at adults and teens alike.
Sara duPont is a social-emotional learning facilitator, college counselor, and founder of The Mindful Applicant.
How to Manage the Increased Mental Load Under Quarantine with Leslie Forde
Tuesday, April 28, 1-2PM, Zoom, non-members welcome
With COVID19, we're relearning how to work, live and parent all at once, which strains our cognitive capacity. When the routines dissolve, school's at home and housework multiplies, what are our options? Although we have to approach it differently, we can lighten the mental load during this surreal time. Presented by Leslie Forde of Mom's Hierarchy of Needs.
Earth Day at TVW: Housebound Climate Action with Anne Sudduth
Wednesday, April 22, 12-1PM, Zoom, non-members welcome
Join TVW members and neighbors to take action for the 50th anniversary of Earth Day. Learn how to quickly sign up for 100% renewable electricity and shrink your carbon footprint from your WFH office! Hosted by TVWer Anne Sudduth and Diane Sokol of Climate Is Everybody's Business.
Basic Estate Planning: Yes, even you have an estate worth planning for with Amiel Weinstock
Are you familiar with the basics of estate planning? Would you like to learn more about the importance of health care proxies and durable powers of attorney in these precarious times? Join us for a virtual lunch with estate planning attorney Amiel Weinstock on Monday, April 13 at 12 PM. Join us on Google Hangouts.
Financial Planning: Your 401K and Personal Finances in the Time of Coronavirus with Linda Gillespie
Thursday, April 2 12-1PM on Google Hangouts
We'll have a learning session Linda Gillespie of Real World Financial Planning to discuss personal finances in the time of Coronavirus. Join us on Google Hangouts. 
Let's Draw Together! with Savanna Li
Tuesday 3/31 12-1PM
Check out an interactive drawing class with Savanna Li from AGNCY. No experience needed! Join us on our Google Hangouts room with pencil, paper, and something round.